Staining shutters on your home's exterior is a great way to properly maintain them to last a very long time.  Having professionally stained shutters not only adds great curb appeal to your home but will help prolong the life expectancy of your shutters.  Our staining experts are ready to provide you with excellent service and help you to protect the huge investment you have in your home.   We can stain any outdoor wooden features on your property including shutters, garage doors, fences, pergolas, arbors, gazebos, and more.  Visit our online staining photo gallery to see many projects we have completed along with some great before and after photos to show amazing transformations.
Benefits of Staining Your Shutters
Wood staining and sealant products by design are used to protect the wood from splintering, cracking, and chipping. Many of the staining products also protect from harmful UV rays to help the wood maintain its durability even from the hot Texas sun. Staining your wooden shutters offers great protection that will prolong their lifespan.  Another added benefit is that the freshly stained shutters will make your home look amazingly beautiful.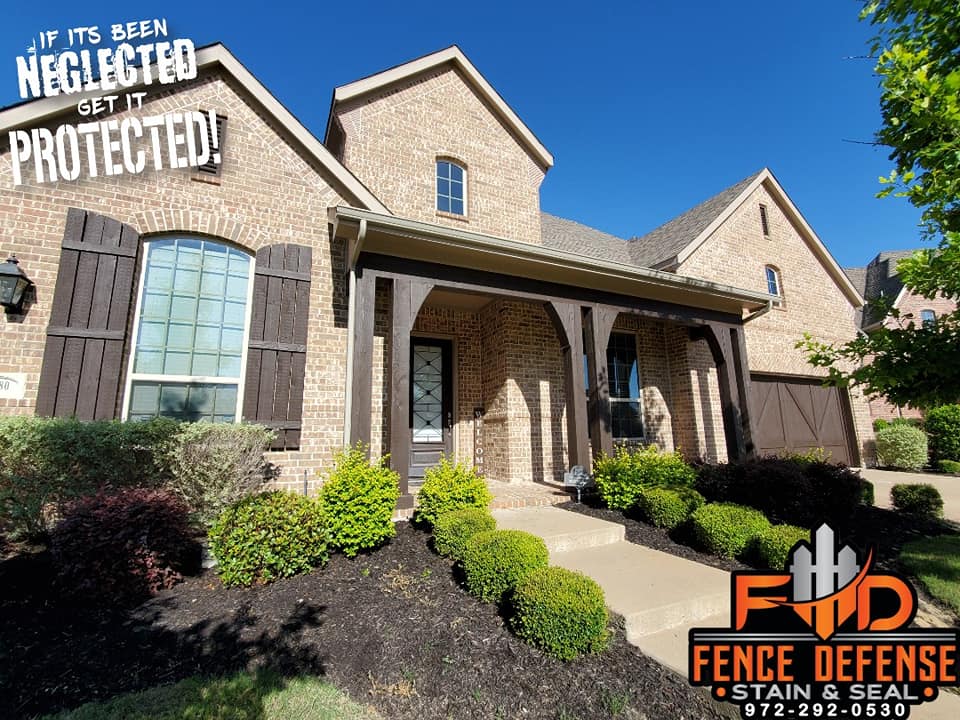 Wood Stain Color Options
Wood stain is available in a vast range of colors and hues.  We offer many wood stain colors for you to select from to match other wooden features around your home.  We can match your fence stain, garage door stain, or any other wooden structure on your property.  Depending on the style and architecture of your home, you may want to choose a dark stain for a Tudor style home or a light stain for a country cottage architecture. 
Beautiful shutters add the perfect touch to window framing for any home. Call Fence Defense today for all your affordable staining options! Our staining experts are ready to provide you with a free quote to stain your shutters. 
Call Us Today For A Free Shutter Staining Quote!
Our Wood Staining Services