Garage door staining is a great way to give your garage a new look that will make all of your neighbors jealous with envy. A professionally stained garage door is an essential part of protecting and maintaining your garage door's lifespan. If you neglect taking care of your wooden garage door you will eventually face the higher cost of replacing the door in the future.  Just like any other wooden structure at your home, your garage door needs to be well maintained to preserve its beauty as well as prolong its life.
We offer many different colors of stain for your garage door, but many people choose to go with a brown stained garage door because it looks so elegant on most homes.   No matter the color you choose we will professionally apply the stain to make your door look amazing.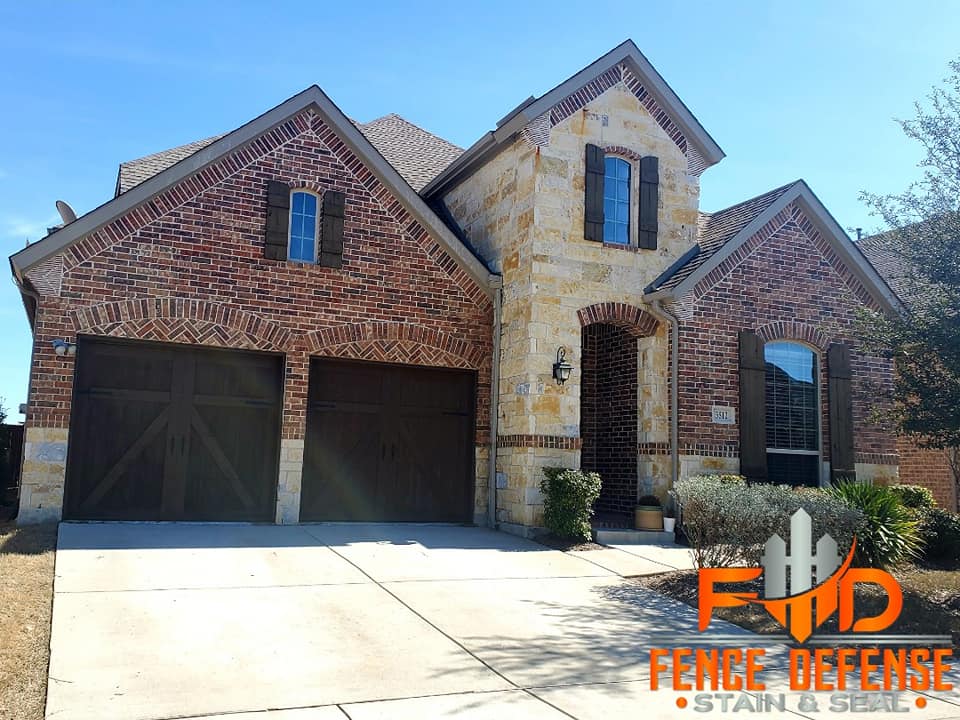 Garage Door Stain Protects From The Elements
Depending on the direction your garage faces, it may be subject to many hours of direct sunlight.  We all know how hot it gets in Plano and the North Texas area during the summer months.  The heat and sunlight and during the summer months can really do a number on your garage door if it is not protected.  With a proper application of staining, you can help protect your beautiful garage door from the elements.
Take a look at our photo gallery of the beautifully stained garage door projects we have worked on in the past.  You will be amazed at what a difference a freshly stained garage door will do for the curb appeal of your home.
Save yourself the need for garage door replacement with Fence Defense's staining services. Let us help protect your investment and save you the money of replacing it entirely.
Call Us Today For A Free Garage Door Staining Quote!
Our Wood Staining Services