Professional Fence Staining
Professional fence staining makes your fence look spectacular.  Our professional wood stainers are experts at staining both new fences and old fences.  Before you spend a lot of money replacing your current fence, you should give us a call to see if we can restore your fence and make it look new again.  We always use the best fence stain on the market and we are experts when it comes to staining a fence.
We offer complete fence staining services to improve the look of your wood fence and wood gates!  A professional stain will provide the following:
Give your fence new life with fence staining
Preserve the natural grain of the wooden fence and gate
Protect your fence from aging
Your fence not only defines your property but also adds value to your home as well.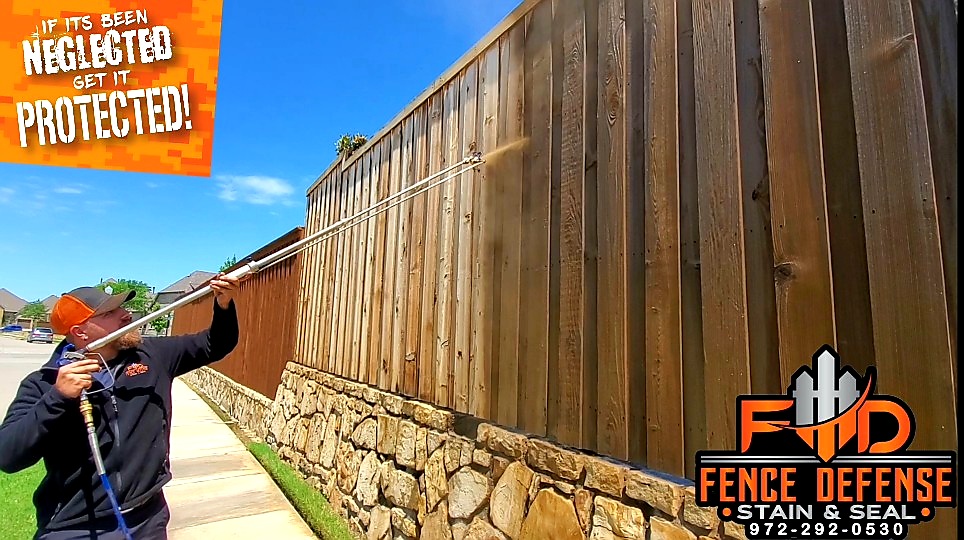 We Are Fence Staining Pros
Our fence staining professionals have knowledge and experience for staining many types of wood.   We are primarily staining cedar fences here in the Plano area, but we also stain pine and redwood fences as well.  We are also experts at staining wood gates.  No matter if you have a horizontal cedar fence, a board on board cedar fence, or any other type of fence we will make it look spectacular.
Be sure and check out our professional fence staining photos to see other great pictures of the staining work we have done in the past.   We look forward to helping you stain any outdoor woodwork at your home.
Fence Defense is based out of Plano, TX, but we service the greater North Texas area with a variety of fence makeover options.  Stain your fence with Fence Defense and receive a free fence cleaning as well. With our fence pressure washing and staining, you can rest easy knowing that your outdoor perimeter will look just like new.
Call Us Today For A Free Fence Staining Quote!
Our Wood Staining Services