Pergola, Arbor, and Patio Cover Staining 
Pergola staining is a great way to not only freshen up your backyard but also to protect your pergola from the elements.  We professionally stain pergolas, arbors, and patio covers to help keep your backyard looking spectacular.  In addition to our fence staining and maintenance options, we provide a variety of staining options for pergolas, arbors, and patio covers.
Without proper staining or sealing, wood naturally begins to turn grey over time.   Unprotected wooden structures will not last as long as those that have been properly maintained. Wood stain and sealant adds an extra layer of protection to the wood, protecting it from harmful UV rays, moisture, and temperature changes.  With the extreme heat during the Texas summers, you must keep your pergola properly stained to help prolong its life.  The hot Plano sun during the summer months can take a toll on your pergola.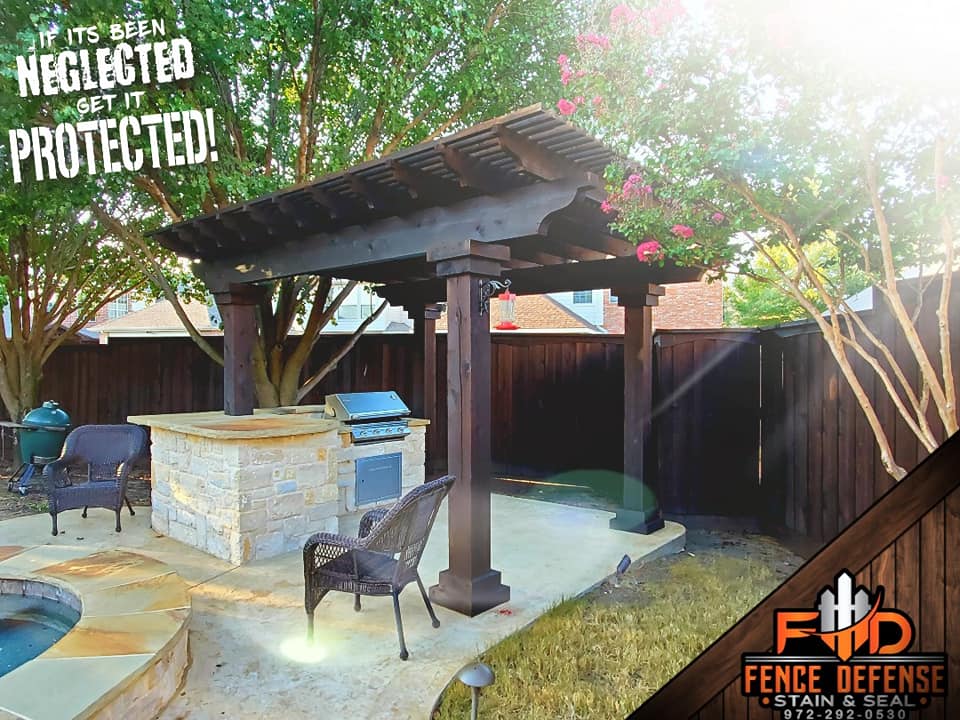 We Specialize in Arbor and Pergola Staining
Our staining experts will professionally clean and apply the best staining products to protect your shade arbor, Pergola, gazebo, or patio cover.  When the time comes for staining your pergola for the first time or restaining an older structure, we make sure to properly prep the area for the best results.   As with any other project, the prep work is typically the most important step for producing great results.
After the preparation is complete, we get to apply the beautiful stain.  We offer many different wood stain colors in diverse natural wood tones so that you can choose one that best meets your design preferences. We can match your pergola to your fence, and shutters to make your backyard look amazing.
Check out our staining photo gallery of past staining  projects.
Fence Defense looks forward to delivering performance and style for all of your affordable staining needs.
Call Us Today For A Free Pergola and Arbor Staining Quote!
Our Wood Staining Services